CORPORATE PROGRAM & TRAINING
Blue Sky could customize a unique program for multi-purpose. From a family fun day, discovering Sai Kung paradise, eco program, challenge a new skill or high intensive training.
Blue Sky could customize a unique program for multi-purpose. From a family fun day, discovering Sai Kung paradise, eco program, challenge a new skill or high intensive training.
A day of fun with the natural view in Sai Kung could relax your working tension and encourage interaction between the corporate families. Going through challenges could also bring solid bonding in the team.
SUP Adventure
With SUP boards you can explore and tour the nature in a relaxed 'green' eco friendly way, no harming the environment, no engine noise or pollution. It is just you and your friends gliding smoothly on the water, enjoying the flow movements, reaching inaccessible spots and discovering the nature at his best.
SUP Yoga / Yoga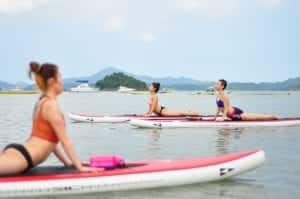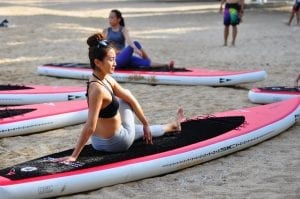 SUP Yoga has combined stand up paddle boarding and yoga, you could united to the nature and get fully relax while doing it.
SUP Yoga provided an unstable platform which you could tune your poses and engage core for balancing.
Yoga lesson could also be taken on the shore, the sound of the sea would help you relax and focus on your own breath.
Our qualified instructors could provided yoga course for beginners to advanced participants. It would be an empowering event for every one.
Kayak Adventure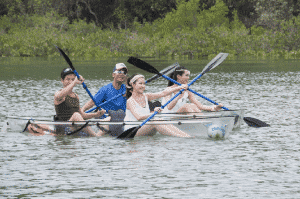 This trip will take you to visit the special geological landscape around Sai Kung. The trip will be 6 hours; our facilitators will take you to explore volcanic rocks in different locations with a Junk and kayaks.
One of our favorite spot is Bluff Island, where kayakers can paddle from one side of the island through the cave and exit on the other side of the island. Our facilitators will only run such trip when conditions allow, due to safety reasons.
Participants will need better paddling skills while kayaking in such locations, as it is not a shelter water conditions. Paddlers who do not have enough skills will still be able to explore the landscape from our Junk.
Dragon Boat Adventure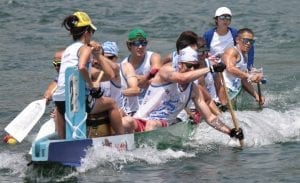 Team work is the greatest element in Dragon Boating. Groups and companies would be able to set up your own dragon boat fun day, races and dragon boat team. The session with be fun and adventure to all paddlers. As you and your colleagues will experience working together as a team, paddling at both day / night time and touring yourself around beautiful Sai Kung water in a very different way.
Dragon Boat Sponsorship Program


We are looking for sponsorship to our dragon boat team; you can help us by supporting the team in upgrading our equipment in order to enhance our performance, or you can help by funding us with the cost of our team's operation. As we move forward to the next level of excellence, we would appreciate any support that you could give us for this very worthwhile cause.
If you are interested, please send an e-mail to info@bluesky-sc.com or call 27910806 during office hour.
* Participants are required to be able to swim a distance of 25 meters; life vest / leash must be worn during the lesson.
* I declare that I am in good condition and have the ability to participate in this activity.
* Penalty will be charged at $100 per hour per board for over time gear rental.
*The Course will be cancelled if the typhoon signal No.3 (or above) or red rainstorm signal (or above) is still in effect 2 hours before the course commencement.
*Compensation for the cancelled course will only be made in the form of make-up in each individual cases base on the variable circumstances, when the date of which will be set by BSSC without any objection of the participants.
*The BSSC reserves the right to change instructors, time, venue and content of the course. If the number of enrollment is not enough to run the course, we reserve the right to cancel it in our sole discretion, as we deem appropriate.
* Participant of all offers stated above (both tours & private rental) shall accept full responsibility for the care of the equipment during the rental period and will be responsible for the replacement at full retail value if not returned or returned in a damaged condition.
* Individual SUP rental service is only available for those who have passed the beginner's program examination with proven qualified certificate or equivalent standard.
*Please kindly confirm the booking with full payment 5 days in advance.
For further enquiries, please kindly contact our service hotline at 2791 0806, or e-mail: info@bluesky-sc.com.