Sai Kung Island Hopping SUP Adventure | With Beginner Class & Membership
From: $680.00
About this tour:
Discover the beauty of Yim Tin Tsai, Pak Sha Chau, and Yeung Chau all in one day with Stand Up Paddle Boarding (SUP)! Our experienced instructors will guide you through various historical sites and local Hakka history while you enjoy the peace and tranquility away from the city.
In the morning, our internationally certified instructors will teach you the basics of using SUP in the Beginner Class. After a short break, we will take you to the serene side of the Sai Kung islands. You will be able to take in the breathtaking views of Yim Tin Tsai, Pak Sha Chau, and Yeung Chau while learning about the ecology of the region.
After you have completed the tour successfully, you will be awarded a SUP Beginner Certificate by the Hong Kong Surf & Stand Up Paddle Association.
No prior SUP experience is required for this tour.
The paddling distance is relatively short for this tour and is suitable for the entire family or with a group of friends!
All of our instructors are qualified by the International Surfing Association (ISA).
Tour location:Sai Kung Sha Ha Beach, Yim Tin Tsai, Yeung Chau, Pak Sha Chau
Meeting Point:Blue Sky Sports Club (Sha Ha Center)
Summer Offer: $680 / head
(Same price for children of all age. Each child must be accompanied by at least one parent at all time)
Price Includes:Instructor, equipment, safety gear, digital certificate, membership and lunch
Suitable age:8 years old or above
Date:Tuesday, Thursday, Saturday, Sunday and Public holidays
Time:10:00 – 16:00 (Please arrive 30 mins early)
Itinerary:
09:45 Assemble at Sai Kung Sha Ha Road
10:00 SUP Beginner Course
12:00 Lunch (Included)
13:00 Depart to Islands Hopping (Sha Ha -> Yeung Chau -> Pak Sha Chau -> Yim Tin Tsai)
15:15 Return to Sha Ha from Yim Tin Tsai
16:00 Dismiss at Sha Ha
Remark:The island hopping routine is subjected to change depending participants' paddling speed, instructor's decision shall be final.
Island hopping route: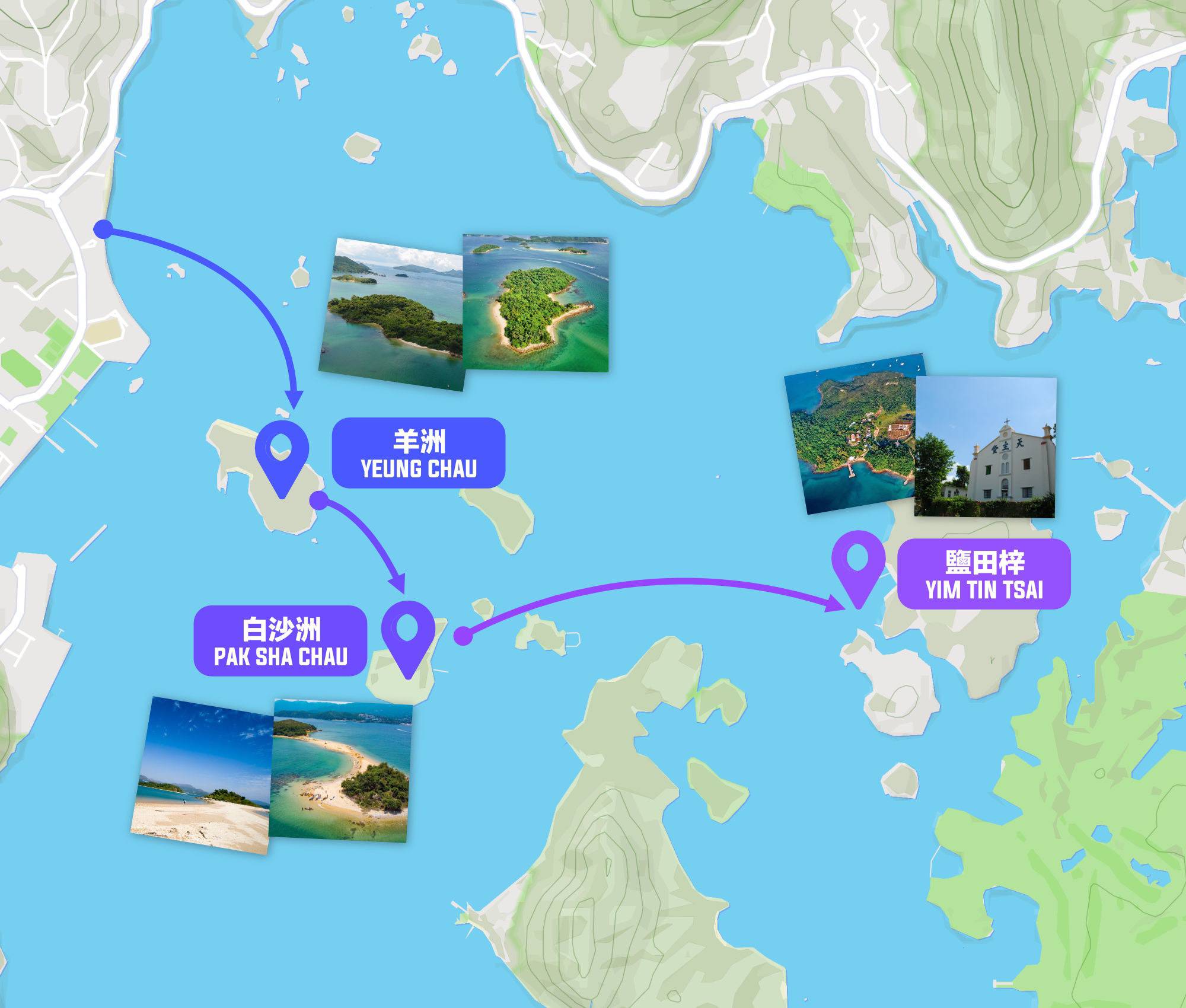 About Yim Tin Tsai:
Yim Tin Tsai, a tiny island with a rich and storied past. Its name literally means 'Little Salt Pan' in Cantonese and it is the only place in Hong Kong where salt is produced today.
That fascinating history may have been lost if not for a movement to revive the island that began in about 2000. That work has not only earned the island recognition from UNESCO but has turned it into one of Hong Kong's most exciting, off-the-beaten-track day trips.
SUP Beginner Class:
The 2-hour class covers all basic SUP knowledge that you need to know: How to paddle forward and backward in prone position, in kneeling position and in stand up position; how to manoeuvre your board in the water; and most importantly, the safety knowledge such as how to fall properly. Your lesson will be conducted in calm flat water.
After you have completed the lesson successfully, you will be awarded a SUP Beginner Certificate by the Hong Kong Surf & Stand Up Paddle Association.
Blue Sky Membership:
There are tons of benefits included with your Blue Sky Membership, include rental discount (up to 50% off), course & tour discount (up to 20% off) and able to join exclusives programs (such as team training) only for our Blue Sky members.
Please note that all membership benefits are for the member her/himself only and cannot be transferred to others.
Minimum participants:8
Tour can still be formed if less than 8 people provided full price of 8 people is paid  (Private Tour).
If less than 8 people we might arrange you to join another group.
Tour might be canceled if there are less than 8 people joined.
Booking & Payment:
After submitting the booking request, please wait for our confirmation email and payment instructions before payment to ensure availability.
After receiving the emails, please use the link in our email to pay within 12 hours to reserve your spot.
What do I need to bring?
Must bring: Water sports shoes that covers your toes, swimwear, extra clothing, hat, sunscreen, dry bag and drinking water of 750ml or more.
You are also suggested to bring sunglasses (with a floating belt), put on sunscreen and insect repellent before the event. You'll also need dry clothes for changing after the event.
To start the event on time, please kindly change your clothes and settle your personal belongings in advance (Not applicable to Kei Ling Ha).
Bad weather and Cancellation policy?
I've got more questions!
Please visit our FAQ to find your answer.