Kei Ling Ha BBQ SUP Glamping
From: $800.00
About this program:
Want to experience Camping, Water Sports and BBQ together without have to worry about a thing? Let's bring your friends or family to join our BBQ Glamping Eco Tour and have some fun together!
No longer need to find rare camping site yourself, Blue Sky will provide everything you need including the perfect spot to camp with a lovely view near the water front. All camping and water sports equipment is provided including tent, BBQ stove, tableware, shower and bathroom.
Before the night of camping, our professional coaches will teach you how to SUP (SUP beginner certificate included), then bring you to the nearby area to explore the beautiful countryside. After the tour, our team will lead you to your pre-assigned campsite to rest and you will have a lovely BBQ dinner afterwards with your friends.
(Note this is a 2 day 1 night package, including camping, half day SUP Eco tour and SUP Beginner Class)
Promotional Price:
4 people or more – $750 per head (i.e. $3000 for a group of 4)
3 people or less – $800 per head (i.e. $1600 for a group of 2)
Originally $980 per head
Price Includes: SUP Equipment, Safety Gear, Digital Certificate, Camping equipment*, Table / Chairs, Instructor, BBQ dinner (Food, tableware, BBQ Stove with charcoal), bathroom and showers etc.
*you can bring your own equipment
Basic Itinerary
12:30PM Assemble at Blue Sky Kei Ling Ha Centre
1:00PM SUP Beginner Class: Briefing and teaching basic SUP skills
1:30PM SUP Beginner Class: Basic training inside breakwater area
2:30PM SUP ECO Tour: Yung Shue O / Sham Chung / Wu Chau / Tseng Tau Tsuen beach (Actual destination will depend on participant's ability and water condition etc.)
4:00PM Return to Kei Ling Ha Centre
5:00PM Unpack and rest at assigned camp site
6:00PM BBQ Dinner (Included)
9:00 AM Breakfast time (NOT included)
12:00 PM Dismissed
Prerequisite: Able to swim 50 meters without assistance
Venue:Kei Ling Ha San Wai No. 16
Assemble point:
Kei Ling Ha San Wai No. 16 (Bus: 99, 99R, 289R, 299X, then walk about 10 mins)
Minimum participants: 4 (2 people per camp)
Please note that you will be sharing the camp site and its facilities with other people, while you'll have your own private tent(s). If you'd like to book the entire camp site,  please contact us to learn more.
Special Notice:
Must bring: Drinking water, sunscreen, mosquito repellent, flash light, towel, extra clothes, sleeping bag (not included for hygiene)
Recommended to bring: Battery pack, portable fan, wind jacket, water sport shoes, waterproof bag, sunglasses, cap, snack/energy bar.
Please bring your own water sport shoes to protect yourself against sharp rocks around the area
There are showers, changing room and locker on site.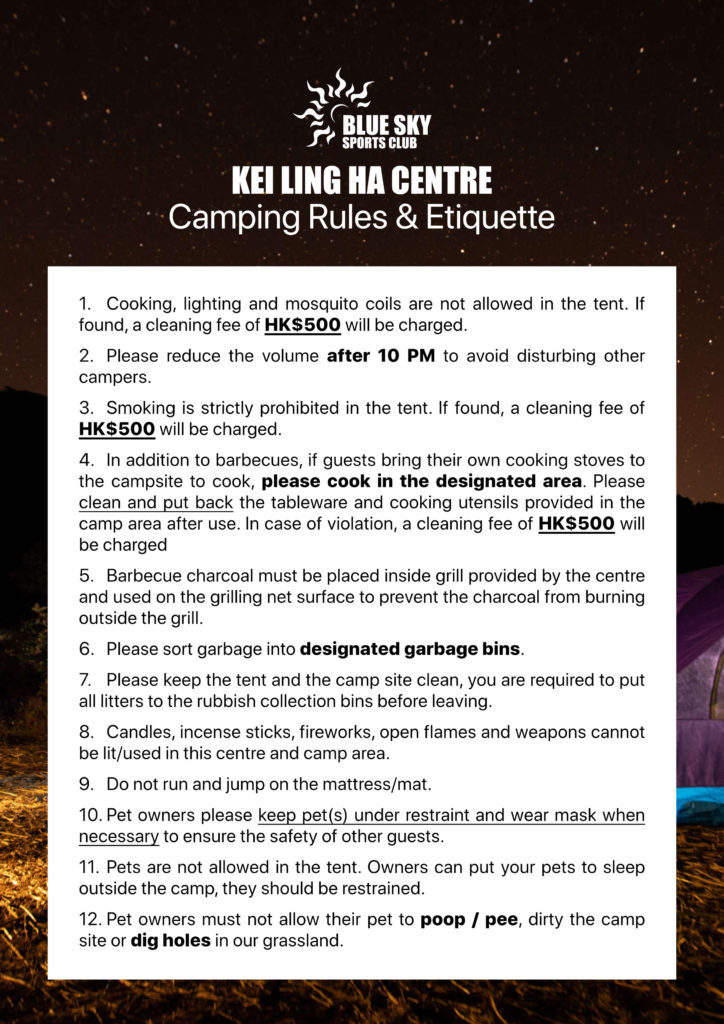 Booking & Payment:
After submitting the booking request, please wait for our confirmation email and payment instructions before payment to ensure availability.
After receiving the emails, please use the link in our email to pay within 12 hours to reserve your spot.
Please provide the Booking ID# to the coach on booking date
What do I need to bring?
You are suggested to bring water, water shoes (cover heel and toes), sunglasses (with a floating belt) and a hat. Please put on sunscreen and insect repellent before the event. You may need dry clothes for changing after the event.
Please wear water shoes / sports shoes for the event. Flip flops are NOT recommended.
To start the event on time, please kindly change your clothes and settle your personal belongings in advance.
Bad weather and Cancellation policy?
I've got more questions!
Please visit our FAQ to find your answer.