Beginner and advanced dragon boat courses, including group training and competitions.
Established in 2001 by a group of sports professionals, Blue Sky Sports Club was inspired to provide our members with unique experiences in various sports activities.
Blue Sky Sports Club aims to help our members to learn different water sports related skills & techniques and our biggest goal is to let our members enjoy their time in the ocean.
We provide training & events on different forms of water sports such as swimming, kayaking, stand up paddling, surfing, dragon boating and wakeboarding.

Blue Sky Dragon Boat Team
In the past three years, the Blue Sky Dragon Boat Team has participated in more than 10 competitions every year. Most of the times our teams can compete in the top three places. Our team has been selected to representing Sai Kung District in "Hong Kong International Dragon Boat Regatta (Tsim Sha Tsiui)" in 2010 and 2011. And we had achieved Champion (2010) and Second Runner-up (2011) in 2010 and 2011 respectively. Our women team had won 3 years in a row Champion in Sai Kung Dragon Boat Festival in 2009-2011.
In the year 2012, Blue Sky Dragon Boat Team represented Hong Kong in the "5th IDBF Club Crew World Championships" in Tsim Sha Tsui on July 4 and 8.
Dragon Boat Youth Training Program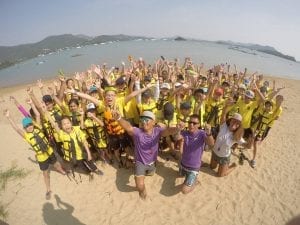 The Youth Dragon Boat Program is aiming to create school dragon boat teams to promote dragon boat towards the youth, by creating interests and to develop skills and for participants up to the standard to take part in local dragon boating events.
The Program Details:
Team members will receive fitness and skills training which will help them to perform on the boat.
The number of team members required:
Small Dragon Boat Team: min 10
Standard Dragon Boat Team: min 20
Price:
10 sessions of 2 hours training
Small Dragon Boat: $18,000
Standard Dragon Boat: $28,000
Time:
Monday-Friday: 09:00-21:00
Saturday: 09:00-12:00
(pick 2 hours from the above time slot)
Dragon Boat Fitness Program
Program Details:
This program is designed for those who would like to exercise their body and mind thought dragon boating and meanwhile meeting friends.
The benefits of Dragon Boating (part of):
– It's a whole body workout
– Great for strengthening your abs and core.
– Great for cardiovascular fitness.
– Good for coordination.
– A bridge to make friends, building a supportive relationship and building a spirited group.
– Boots boosts self-confidence, reduce stress levels, improved self-esteem and body image.
The number of team members required: min 8
Price: $650/person
Included: 4 sessions of 1.5 hours training per month
Time: Friday 07:30pm-09:00pm
Venue: Sai Kung – Sha Ha
Dragon Boat Elite Program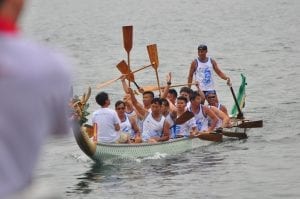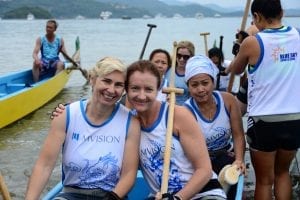 With our elite team, we train year-round for a continue skills & fitness development with the sport of dragon boating. Our training season will start from February towards December. We are expecting members to train at least 3 times per week. We will have around 10 races for the coming year, and the major ones will be the Dragon Boat Festival Race & the World Club Crew Race.
Membership fee:
HKD$800
(include instructor, dragon boat equipment rental and member t-shirt and vest)
Water Training Sessions:
Monday 07:30-09:00pm
Thursday 07:30-09:00pm
Dragon Boat Team Building / Fun Day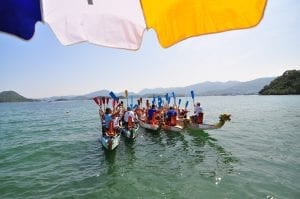 Based on traditional Chinese culture, the course will help groups to understand the culture and skill of dragon-boat racing. It is a combination of entertainment and athletic sports, arousing students' enthusiasm for independent exercise. Dragon boating is traditional, fun, competitive and easy to learn; unlike all other water sports, it requires strong teamwork.
Combined with the characteristics of dragon boat racing, this day camp will popularize the basic knowledge of water sports, learning different paddling techniques and race strategies. It cultivates you the interest in Dragon Boat, enables you to learn and master the basic skills of dragon boat racing, as well as practising the methods primarily and apply them to the dragon boat race in the afternoon.
* Participants are in good condition and have the ability to participate in this activity.
* Participants are required to be able to swim a distance of 25 meters; life vest/leash must be worn during the lesson.
* Please settle the payment at least 5 DAYS IN ADVANCE.
* Please be noticed that all group class less than 4 would be cancelled, reschedule would be arranged base in the variable circumstances.
* All cancellations by customers are non-refundable. No refund and reschedule would be made for cancellation less than 48 hours.
* Penalty will be charged at $100 per hour per board for over time gear rental.
*The Course will be cancelled if the typhoon signal No.3 (or above) or red rainstorm signal (or above) is still in effect 2 hours before the course commencement, reschedule would be arranged base on the club's availability.
* Participant of all offers stated above (both tours & private rental) shall accept full responsibility for the care of the equipment during the rental period and will be responsible for the replacement at full retail value if not returned or returned in a damaged condition.
* Individual SUP rental service is only available for those who have passed the beginner's program examination with the proven qualified certificate or equivalent standard.
* Blue Sky Sports Club reserves the right to change tutor, time, place and course content. If there are not enough participants to start a course, we reserve the right to cancel the course and assist the participants to rearrange the timeslot.
*Please also note our cancellation and rescheduling policy:
| | | |
| --- | --- | --- |
| Notification | % of fee charged on cancellation | Request on rescheduling |
| More than 48 hours | 50% | Yes |
| Less than 48 hours | 100% | No |
*We frequently take photos and video of customers, both adults and children. We reserve the right to use these in our brochures, social media and in any other promotional material. If you wish to opt out please email info@bluesky-sc.com.
For further enquiries, please kindly contact our service hotline at 2791 0806, or e-mail: info@bluesky-sc.com.