Boat Charter / Junk Boat Trips
We offers one-stop worry-free junk trips in the Sai Kung and Tseung Kwan O Area.
No matter you just want to party as a group, or want to do some team building exercises, or just want to have the entire family get together and relax, our boat charter / junk boat trips got you covered.
Junk boat trips are a must in Hong Kong during the summer. Whether you're planning to top up your tan at one of the many gorgeous beaches in town or get your adrenaline fix at one of these water sports, it's not truly summer in Hong Kong without hitting the seas and going on a junk.
Wanted to do something extra special for the one that you love and a romantic cruise. Or just fancy to have a small party with your close friends/families?
Our Junk Boat Tour brings you to the tranquility side of Sai Kung Peninsula and offers you a trip that you will never forget. Our six-hour leisure journey takes you to the Saigon Peninsula and its coastal islands (Ung Kong, High Island, Po Pin Chau, Pak Sha Chau, Yim Tin, Kau Sai Chau, Sharp Island, etc.).
So that you can feel the quiet and mysterious side of the Saigon Peninsula, experience Hong Kong's natural ecology, traditional history, snack food and tide play water activities. Our coach could lead you to have a close look and a photo with SUP / Kayak (Add-Ons).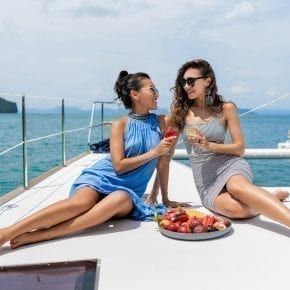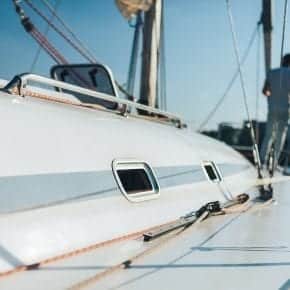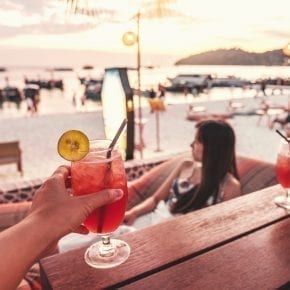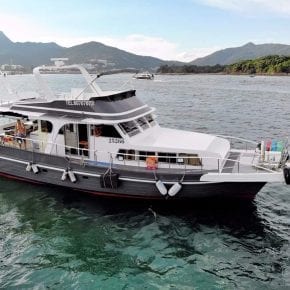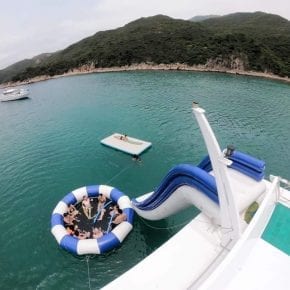 Tseung Kwan O to Sai Kung
Departure Point: TKO Waterfront Park

Holiday Price (Every Sat, Sun and General Holiday):
$16800 July to Sept
$14800 Rest of the year
Max 40 people
Price not include food and drinks
10:00 – 18:00
Weekday Price:
$12280 All year round
Price not include food and drinks
Max 40 people
10:00 – 18:00
Extra Add-Ons:
Speed boat with wakeboard and banana boat:
$4000
Inflatable Slide
$1500
Inflatable Pool
$2500
Catering
Click here to see catering menu
ECO Tour

Departure Point: Sai Kung Public Pier

June & Sept:
$ 13800
Price includes Lunch and Equipment
Max 30 people
10:00 – 18:00
July & Aug:
$ 16000
Price includes Lunch and Equipment
Max 30 people
10:00 – 18:00
Oct & Nov:
$ 13000
Price includes Lunch and Equipment
Max 30 people
10:00 – 18:00
Equipment Included:
Inflatable Slide / Bouncing bed / Inflatable Seesaw – Choose 2
Latest Inflatable Bed / Gyro –  Choose 1
Food Included:
Crab porridge, braised shrimp, fried wonton, braised squid, fried chicken with sausage, fried ginger wings, fried udon, oiled veg.
Extra Add-Ons:
Catering
Click here to see catering menu
ECO Tour

Chinese / Fusion (Tseung Kwan O)
Chinese (Sai Kung)
Chinese / Fusion (Tseung Kwan O)
Chinese (Sai Kung)
Drinks Package
HK$200/person, minimum 30 people
San Miguel beer 

生力啤酒
Sparkling wine

起泡葡萄酒
White wine

白酒
Red wine 

紅酒
Sprite, Sprite Plus (Suger Free)

雪碧/雪碧 – Plus (無糖)
Coke or Coke Zero

可樂 / 零系可口可樂
Water
礦泉水
Premium Drinks Package
HK$280/person, minimum 30 people
Asahi Beer

Asahi 罐裝生啤
Hoegaarden 

Hoegaarden 麥啤
Somersby
Somersby 蘋果酒
Meta Slim Tea
極品纖解茶
Sparkling wine

起泡酒
White wine

白酒
Red wine

紅酒
Sprite, Sprite Plus (Suger Free)

雪碧/雪碧 – Plus (無糖)
Coke or Coke Zero

可樂 / 零系可口可樂
Orange Juice

橙汁
Sparkling Water

純天然有氣礦泉水