Experience Hong Kong's natural ecology, traditional history, snack food and tide play water activities.
Wanted to do something extra special for the one that you love and a romantic cruise. Or just fancy to have a small party with your close friends/families, but finding a junk too overpriced with limited people.
Blue Sky Eco Tour brings you to the tranquility side of Sai Kung Peninsula and offers you a trip that you will never forget. Our six-hour leisure journey takes you to the Saigon Peninsula and its coastal islands (Ung Kong, High Island, Po Pin Chau, Pak Sha Chau, Yim Tin, Kau Sai Chau, Sharp Island, etc.). You could feel the quiet and mysterious side of the Saigon Peninsula, experience Hong Kong's natural ecology, traditional history, snack food and tide play water activities. Our coach would lead you to have a close look and a photo with SUP / Kayak.
Time: 10:00-16:00 (6 hrs)
Price Rate: HK$850/pax
Coach & Student ratio at 1:8 (Min. of 4)
Price Include: Gear rental, instructor, Electronic SUP Beginner Certificate
For 8 students class: simple lunch, speedboat transportation
Program Details:
This program included the SUP Beginner Program. Participants would be able to learn the basic skills: How to paddle forward and backward in prone position, in kneeling position and in stand up position; how to maneuver; and most importantly, the safety guidelines such as how to fall properly.
During the touring part, we could escape the manic pace of downtown Hong Kong with a relaxed tour of Sai Kung Islands.
This program provides professional coaching for age 10 or above and all levels, with an emphasis on safe, high quality tuition in small groups.
Our coach will bring you to the open sea and discover the beautiful scenery during the practice.
Time: 1000-1600
Price: $850/pax (min 4)
Included: gear rental, instructor
For 8 students class: simple lunch & speedboat
*All SUP participants should hold SUP Beginner Certificate by HKSUPBA.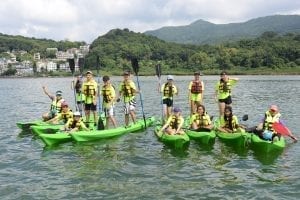 Time: 1000-1300 / 1300-1600
Price: $650/pax (min 4)
Included: gear rental, instructor
For 8 students class:  speed boat
*All SUP participants should hold SUP Beginner Certificate by HKSUPBA.
Time: 1000-1300 / 1300-1600 (3 hours)
Price: $650/pax (min 4)
Included: gear rental, instructor
For 8 students class: speedboat
Immerse yourself in indescribable beauty, where nature reveals its flawlessness. This discovery trip will focus on taking you to different coral protected area where motorboats are straightly restricted. It is designed for those with little or no previous kayaking experience. The thrill and gratification of learning to kayak in the Sai Kung Peninsula is a great start to kayaking.
Throughout the day, you will cover all the basic skills including paddle strokes, rolls, rescues and the art of reading the wild ocean. The priority is safety; a safety boat will be travelling with the group, which will call you to explore more locations with a smaller distance of paddling. Let's not forget the joys of a more intimate relationship with the magical Sai Kung Water! The locations we go on for the trip are usually in shelter water, which most kayak beginners are capable to handle.
Attractions for Eco Tours
Kau Sai Chau
Kau Sai Chau is the 6th largest island in Hong Kong. In the old days, the villagers used to farm, fish and produce salt for a living. Kau Sai village has more than two hundred years of history and was once classified as a military area by the British Hong Kong government. You will find Hung Shing Temple in the southern part of the island, the building was built before 1889, and was declared an "Outstanding Project" by the UNESCO Asia-Pacific Heritage 2000 Awards and also a Grade III Historic Building. It is used to celebrate the Hung Shing Festival and being the community center and village school.
Additionally, participants could arrange barbecue / camping in Blue Sky campsite in Kau Sai Chau. A 2 days camp could allow participants to paddle in the amazing view of sunrise and sunset in Sai Kung.
Sai Wan
Sai Wan lies in the east coast of Sai Kung peninsula and situated at Stage 2 of the MacLehose Trail. It was one of the beaches carved by the waves of Pacific Ocean. It is characterized by white sand and clear blue waters, which is attributable to its relative inaccessibility. It is quiet and untainted, usually visited by junk-trippers and hikers only. It came first in the Hong Kong Best 10 Scenic Sites Election in 2006, considered the "The backyard of Hong Kong".
There are a few restaurants in Sai Wan Village, visitors could always get some refresh and spend the whole afternoon relaxing in one of the most beautiful view in Hong Kong.
High Island – Po Pin Chau
Po Pin Chau is a triangle island by the east dam of High Island Reservoir. In more than 100 million years ago, a huge volcano (up to 18 km in diameter), was located between High Island and Ninepin Island. When lave covered the surface during explosion. Regular contractions happened while the layer cooling, which produce the hexagonal columnar joint seen today.
Po Pin Chau was once part of High Island. Though out million years, a hill was cut in half by natural erosion processes and a gigantic sea stack came to being. Long years of erosion have separated it from the mainland. Today this islet and High Island stand closely opposite, with just a narrow strip of water between them. High Island and the surrounding region is volcanic rock terrain.
Instructors could bring participants to have a close look and picture with this huge historical site. With good weather condition, participant may even have the changes to hike on Po Pin Chau, enter the sea caves and take a look on the "Heart of Hong Kong".
Ung Kong Group
Being part of the Hong Kong Geo Part it contains one of the four biggest sea caves in our eastern waters ¾ Sha Tong Hau Cave. This is an ideal place to study rhyolite and sea caves. The huge sea cave cuts right thorough the island and it is wide enough for us to paddle through. Taking great pictures with these natural artwork.
Most parts of the exposed stratum of Bluff Island belong to the Early Cretaceous Kau Sai Chau Volcanic Group. From the Late Jurassic to the Early Cretaceous, this region was the site of earth shaking changes. It began about 146 million years ago (Late Jurassic) when there were violent magma activities. Fiery underground magma intruded upwards, melting ancient rocks along its path. It forced its way through cracks and thrust along crustal faults or weak bands until it reached the surface to cause great volcanic eruptions. Sometimes magma was pressed inside underground voids. It created such an immense force that when it finally broke out it made catastrophic impact. Explosion shot volcanic ash and gravels high into the air. Lava was vented out from the crater from where it coursed down the slopes, igniting fires and generating great clouds of ash and fume.
According to data for determining the absolute age of rocks, volcanic eruptions and magma intrusion activities took a cyclical pulse pattern. In every cycle, major eruptions were always followed by great magma intrusions. Such cyclical volcanic magma activities can be categorized into four stages, and consequently there are four volcanic rock groups in Hong Kong ranging from old to new: Tsuen Wan Group, Lantau Group, Repulse Bay Group and Kau Sai Chau Group. Judging by the exposed stratum of Bluff Island, we know that eruptions took place in the 4th stage.
Sharp Island
Is one of the islands of the Hong Kong Geo Park. In 2002, The Agriculture, Fisheries and Conservation Department set up buoys for coral conservation areas. Instructors would lead students paddle to Sharp Island and visit the beautiful underwater world of Sai Kung. Transparent Kayak could keep you dry while observing the coral and the natural life around it.
If you happen to catch the low tide, witness the emerging promenade that connects the nearby Kiu Tau islet. Stroll along the natural sand levee for a closer look at this interesting coastal land form.
Dozens of giant boulders are scattered on the tombolo beaches. The quartz monzonite has been weathered and eroded to various degrees to yield irregular cracks. Other typical volcanic rocks found on Sharp Island include volcanic breccia and rhyolite, the former containing angular pyroclasts while the latter's surface is adorned with lava flow banding. These rocks were form by around Cretaceous (150 million years ago to 66 million years ago).  It would also be a nice place to have a 1 hour hiking to understand all these.
Yim Tin
Yim Tin a small offshore island in Sai Kung area which was settled by the Chan's family 300 years ago. "Yim Tin" means salt-pan. In earlier days villagers of the island lived on farming and salt-making.
1860s, missionary arrive Hong Kong and settled in Yim Tin. With the Christian background, the St. Joseph's Chapel was built. The chapel is a Grade III historic building and also received an Award of Merit as part of the 2005 UNESCO Asia-Pacific Heritage Awards.
The Yim Tin Tsai Typhoon Shelter, established in 1968, is located at the east of the island. It is bordered on the east by the northern part of Kau Sai Chau, and by breakwaters in the north and south. Mangrove is found off the breakwater linking Yim Tin Tsai and Kau Sai Chau. It would be a safe and wonderful place for students to paddle though while enjoying view of mangrove forest.
Pak Sha Chau
Pak Sha Chau is a small island about 200m in diameter, only 1.5 km away from Sai Kung. It was originally two islands, due to the narrow channel, sea convection to sand alluvial, forming a unique cross-strait beach. Long beach is a good place for tourists to take a rest and spend time on taking pictures or picnics.
* Participants are in good condition and have the ability to participate in this activity.
* Participants are required to be able to swim a distance of 25 meters; life vest/leash must be worn during the lesson.
* Please settle the payment at least 5 DAYS IN ADVANCE.
* Please be noticed that all group class less than 4 would be cancelled, reschedule would be arranged base in the variable circumstances.
* All cancellations by customers are non-refundable. No refund and reschedule would be made for cancellation less than 48 hours.
* Penalty will be charged at $100 per hour per board for over time gear rental.
*The Course will be cancelled if the typhoon signal No.3 (or above) or red rainstorm signal (or above) is still in effect 2 hours before the course commencement, reschedule would be arranged base on the club's availability.
* Participant of all offers stated above (both tours & private rental) shall accept full responsibility for the care of the equipment during the rental period and will be responsible for the replacement at full retail value if not returned or returned in a damaged condition.
* Individual SUP rental service is only available for those who have passed the beginner's program examination with the proven qualified certificate or equivalent standard.
* Blue Sky Sports Club reserves the right to change tutor, time, place and course content. If there are not enough participants to start a course, we reserve the right to cancel the course and assist the participants to rearrange the timeslot.
*Please also note our cancellation and rescheduling policy:
| | | |
| --- | --- | --- |
| Notification | % of fee charged on cancellation | Request on rescheduling |
| More than 48 hours | 50% | Yes |
| Less than 48 hours | 100% | No |
*We frequently take photos and video of customers, both adults and children. We reserve the right to use these in our brochures, social media and in any other promotional material. If you wish to opt out please email info@bluesky-sc.com.
For further enquiries, please kindly contact our service hotline at 2791 0806, or e-mail: info@bluesky-sc.com.